We do not require any proof of need or form of identification.
Getting here:
Monroe County United Ministries
827 West 14th Court
Bloomington, IN 47404
We are located in the Self-Sufficiency Center building.
812-339-3429
Hours:
8 AM – 5 PM on Mondays & Tuesdays, Thursdays & Fridays. Walk-in hours are 12-4:00 Monday-Tuesday, Thursday-Friday.
MCUM is located on the near west side of Bloomington, next to Tri-North Middle School and Mills Pool. We are located on the #2 West bus route.
Food Pantry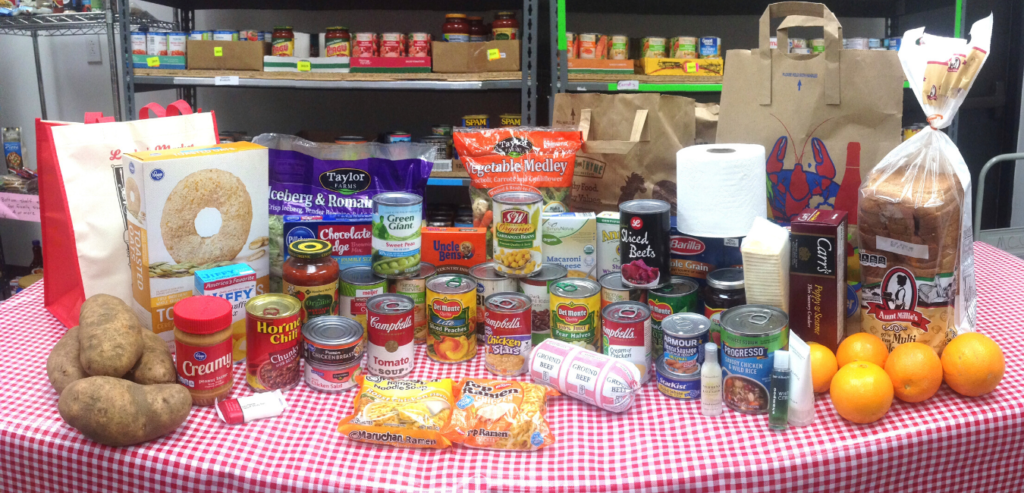 Our food pantry provides a 3-day supply of groceries once per month. On busy days or after 4:30 PM before closing, visitors will receive pre-bagged groceries for their families.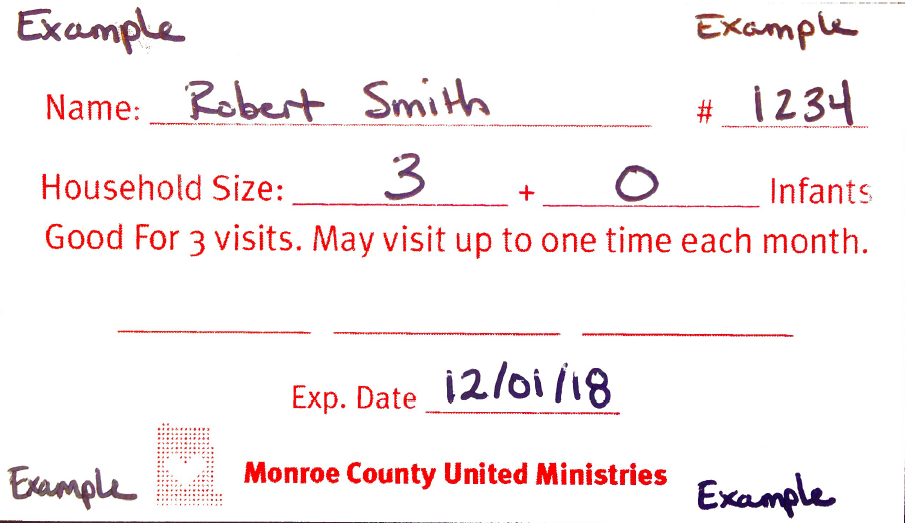 While shopping, you will choose groceries that your family likes. We often have fresh produce, Panera Bread, frozen meat, and frozen entrees and sides from local restaurants and the schools in addition to canned and boxed foods.
If you are in a hurry or prefer a no-contact process, you can now order groceries online and pick them up during business hours.
Once you become a MCUM shopper, you will receive a pantry card to use each time you shop. This allows you to skip paperwork and save time.
Cleaning & Hygiene Items
Twice per year you can receive 6 full-sized cleaning & hygiene items for your family. These are items that are used to clean you or your living space. Typical items available for request include:
diapers
laundry detergent
all-purpose cleaner
trash bags
feminine hygiene products
shampoo
toothpaste
soap
dish detergent
Rent/Mortgage & Utility Assistance
If you need help paying your rent or mortgage or a utility bill, we can help once per year. Click here to learn more.
Please click here to apply online. Or, you may contact Erin at 812-339-3429 ext. 15 for a financial appointment.
Clothing & Housewares
We partner with the Opportunity House, located just down the street, to provide vouchers for families for clothing, shoes, & small housewares.
Every 4 months, families can receive a voucher for items. You will take your voucher to Opportunity House and shop for the items that you like and that fit. Examples include:
shirts
sheets
towels
pants
hats, gloves, scarves, & winter coats
pots & pans
dishes
shoes
Opportunity House frequently sells their items at significantly lower prices than other local shops. We highly recommend visiting them for your shopping needs!
Referrals & Collaboration
If we can't do it here, we will help you find someone who can! We work with a variety of other organizations in Monroe County and would be happy to introduce you to them. Some of our most common referrals include:
Catholic Charities (mental health services)
Indy Health Net – formerly Volunteers in Medicine (physical health services)
St. Vincent de Paul (furniture, rent/utilities)
Compass Early Learning Center (childcare)
Ivy Tech Community College (higher education)
Broadview Adult Learning Center (GED)
SCCAP (housing)
Habitat for Humanity (housing)
Bloomington WorkOne (employment services)
and more!!!!