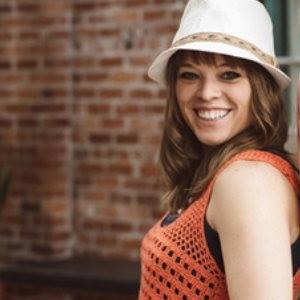 Katie received her Masters of Public Affairs from Indiana University's School of Public and Environmental Affairs in 2012, after completing her undergraduate degree in sociology at Albion College in 2010. After serving in AmeriCorps, Katie was hired at MCUM in 2013 as a Development Associate. She was promoted to Development Director in 2015 and continued in that role while serving as the interim Executive Director from July 2018 until October 2019, when she settled in as the Executive Director. Katie is most passionate about fundraising, specifically relationship-building, but has enjoyed the opportunities MCUM has provided to work on her writing, management, and strategic thinking skills. She loves MCUM because it addresses causes and symptoms of poverty and truly helps families break the cycle, while not minimizing the importance of providing chronic basic needs assistance. Her greatest professional accomplishment has been learning to multitask, prioritize, and communicate directly, thanks to juggling 2-3 jobs at MCUM...while pregnant! Outside of the office, you can find Katie riding her horses (Duke & Ruby), spending time with her husband (Nathan) and daughter (Hazel), and pit bulls (Cleo & Osha). She is also an avid runner and swimmer.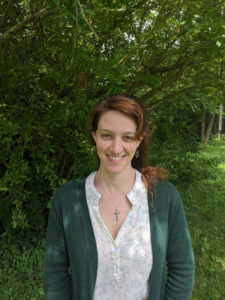 Mary Jean holds a Masters in Public Affairs from Indiana University's School of Public and Environmental Affairs. She began as a Development Associate in 2019 and was promoted to Development Director shortly thereafter, in large part due to her wonderful ability to connect with supporters and involve program staff in administrative efforts at MCUM. She spends most of her time at MCUM writing grants and working with Madison to come up with new fundraising campaigns. Her favorite part about her job is getting to go into the community and talk about the amazing services MCUM offers to the residents of Monroe County. When not working, Mary Jean can found hanging out with her husband, hiking with her two dogs, reading, or playing the bagpipes.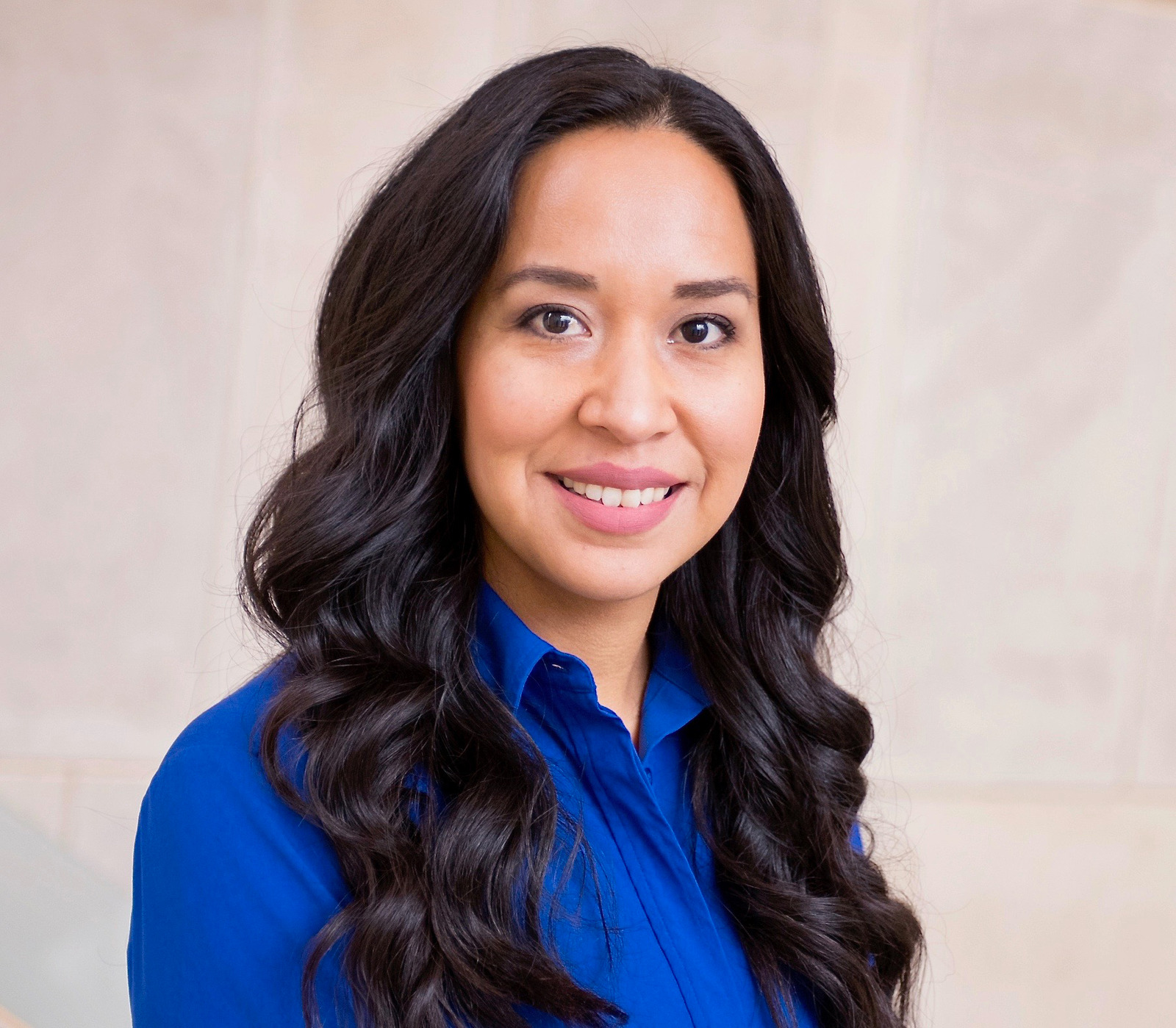 SELF SUFFICIENCY CENTER DIRECTOR
Sherene has her Masters in Public Affair from Indiana University's School of Public & Environmental Affairs. She has been the Self-Sufficiency Center Director since March of 2019. Her greatest professional accomplishment is keeping the food pantry open during the global pandemic. Sherene enjoys working at MCUM because she is committed to finding ways to alleviate financial hardships for members in our community..whether by lending that sympathetic ear, offering food or being an advocate for change.  When not at work, Sherene enjoys hiking, playing basketball, and traveling with her two daughters and Hawaiian husband.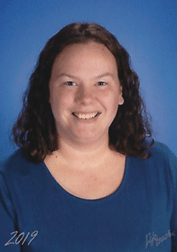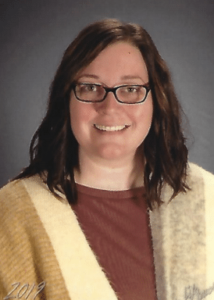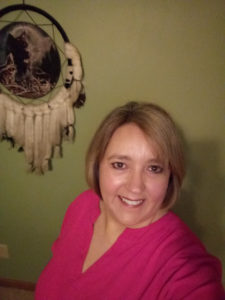 Shannon has worked at MCUM as the Office Manager since 2006 and loves being part of the MCUM team because of all the good we do in the community. She is a wife and mother who loves animals, traveling, and spending time with her family and friends.
In 2020, Shannon set the agency record for securing and managing the largest single grant MCUM has ever received - $264,200.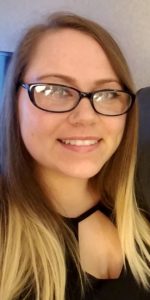 Kayla graduated from Indiana University in 2017. During that year, she was an intern at MCUM, working at the Self-Sufficiency Center. Now, she primarily works with the Compass Early Learning Center on the business side of things - helping families set their weekly tuition rates, processing payment plans, and managing federal and state grant compliance. She is the fur mom of two rescued dogs and one cat. You can find Kayla at home either relaxing or renovating my home. She is currently engaged to her high school sweetheart of 9 years and set to be married in 2021! In her down time, Kayla likes to snuggle up with a fresh cup of coffee and a good book or plan her next getaway vacation!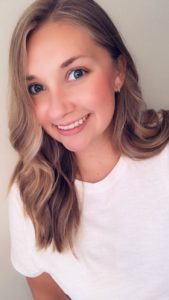 Madison has worked at MCUM for almost 4 years in a variety of jobs, such as the Direct Services Coach for the Self-Sufficiency Center and a Classroom Aide for the Compass Early Learning Center. "I do what I do because I believe in the work that Monroe County United Ministries is doing for our community, and I love that I get to play a role in providing valuable resources to the people who need it most." Madison's biggest professional accomplishment is leading the Each One, Feed One food drive that brought in 9,000 pounds of food and cleaning/hygiene items during the COVID-19 pandemic. In her spare time, Madison serves as the Mayor of Orangetheory Fitness and she also works for the City of Bloomington Parks and Recreation as well as dog sits.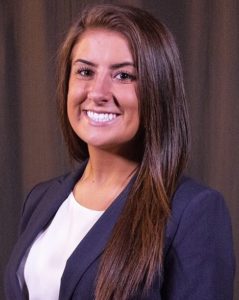 ADVOCATE FOR CIVIC ENGAGEMENT
COMPASS EARLY LEARNING CENTER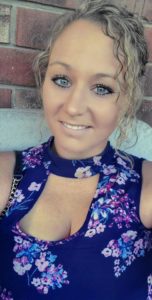 EARLY CHILDHOOD MENTAL HEALTH THERAPIST
Logan is a MSW & LSW and serves as MCUM's Early Childhood Mental Health Therapist. She believes every child deserves the opportunity to reach their full potential. As an ECMHT, she is able to be a part of that journey by helping families utilize their strengths while also providing resources and therapeutic intervention to overcome possible barriers to their success. Logan is a Bloomington "townie" and loves reading, jigsaw puzzles, and playing with her dog Wynnie. She has spent time working with youth in foster care, individuals struggling with addiction, human trafficking, and those with severe and persistent mental illnesses.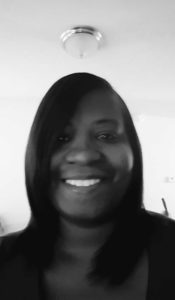 Kim started at MCUM more than 12 years ago as a float, and moved up to become a teacher. She is currently the Dolphin room Lead. Kim has a passion for kids and loves to improve her work performance in the classroom. She also works at Kohl's, is a member of Trinity Episcopal Church, and enjoys reading, sports, and photography.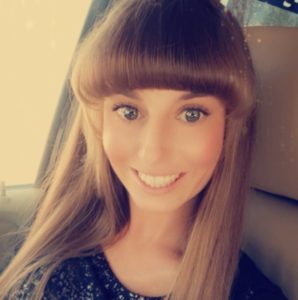 Katelyn has been a teacher at MCUM for over 3 years, working with a variety of age groups during her time here. She was nominated as Teacher of the Year in 2019. She teaches because she loves working with children, watching them grow, and supporting our community by providing quality and affordable childcare. Katelyn is originally from Bloomington and participated in cheer and cross country growing up. She is about to go from being a mom of 1 to a mom of 2!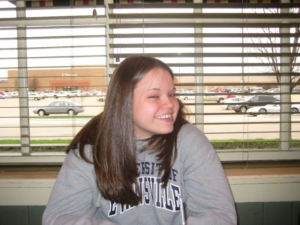 Ashley joined MCUM's staff as an aide before becoming a Lead Teacher in the Seahorse room, her current role. She loves the look on a child's face when they get excited about learning or accomplishing a task on their own. Ashley is from Martinsville originally.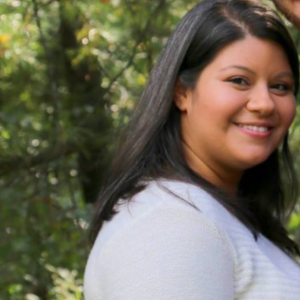 Michelle has been working at MCUM for 6 years and has served in a variety of roles during her time here, but is most famously known as our Otter teacher. She loves MCUM because of her belief that "my kids deserve the same high quality care as kids from higher-earning families. I strive to offer high quality care and to teach them they are valuable and important and that they can be independent." Michelle loves to speak about her passion for the work she does, and was featured as a speaker at MCUM's 2018 Spring Luncheon. In her spare time, she loves being outside, hiking, and Marvel movies. Additionally, Michelle has two awesome kids and three dogs!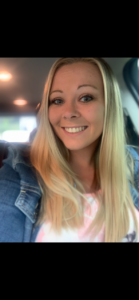 Erika has been working at MCUM for 3 years. She started as an aide in the Zebra room (2 year olds) and became the Lead teacher in the Puffin room (1 year olds) last year. She is working towards her associates degree in early childhood education. She loves children, particularly watching them grow, and develop, knowing that she is playing a role in helping them. She is originally from Bloomington and has a son in the Dolphin classroom. She likes spending time with her fiance, son, and her dog Zoey and cat Cupcake.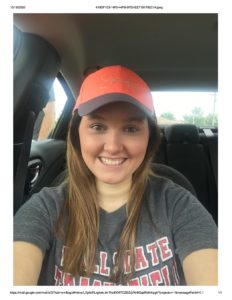 Autumn is the teacher aide in the Puffin classroom. She has been at Compass for almost a year and a half now. Autumn obtained her associate's degree in 2016 at Vincennes University for conservation law enforcement and is am currently taking courses at Ivy Tech to obtain a degree in early childhood education. She has been married three years now and has two dogs named Lola and Gizmo.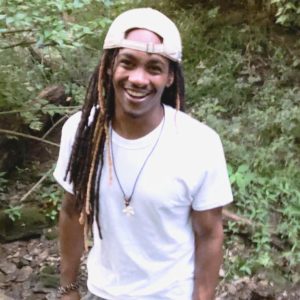 After graduating with his bachelor's degree, Jaime has been our Dolphin Aide for almost 3 years. He says his biggest accomplishment has been sending his classes off to kindergarten. Jaime loves people - and loves when that love is reciprocated! He says "after spending so much time with the children, they really start to latch on and show real love. When a family sees that their child loves you they treat you as one of their own. This is my family. My school family." Jaime likes to play basketball, football, and rugby. He has a dog named Daisy and a cat named Ember.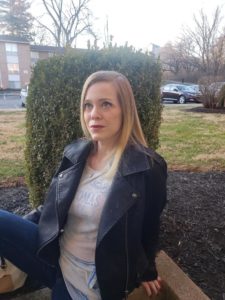 Vanessa has worked at MCUM for almost 7 years! She has a degree in legal studies and several credits in early childhood education. She loves working with children and likes to keep them safe, help them learn, and watch them grow. She is originally from Ohio but lives here in Bloomington now with her firefighter husband and 2 cats. She enjoys doing yoga and pilates, and reading.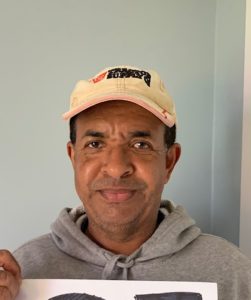 Dionicio Nunez (aka Mr. D)
D  has been cooking for the children at MCUM for 4 years! He grew up in the Dominican Republic and also works at Red Lobster. He has a wife, Amy, and two sons - William and Ivan. Ivan attended MCUM when he was young!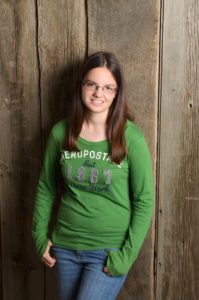 Jennifer has been at MCUM for 2 years and worked a variety of positions. She started as a part time staff and was hired on full time. She loves the children and watching them learn. She is from Sandusky, Ohio and enjoys video games. She is currently going to school to become a math teacher!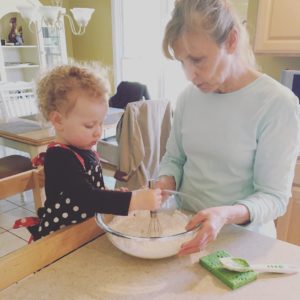 Denise has been at MCUM for over 7 years and comes with a wealth of experience in cooking, childcare, and other important skillsets. She started her career at her family restaurant and also worked as a carhop, where she mastered the critical skills of making correct change, multitasking, and working with people. She then held a variety of positions in the childcare field, including Childcare Resource and Referral Coordinator, Early Education Specialist, Child Abuse Council member, and schoolboard member for Shoals Community Schools. In addition to having attended many conferences, Denise also published a book called Fun Activities for Young Children. Denise is also a proud mother to three children.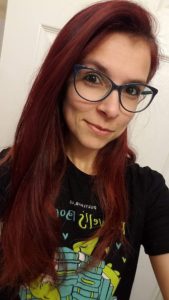 Mary has been working in the Dolphin room since August, 2020. Her career began as a nanny and she considers her biggest professional accomplishment to be still remaining in contact with her three families to this day. Seeing "her babies" all grown up is fun and rewarding. Mary has always loved working with children - she loves watching them grow and seeing their personalities shine through. As a teacher, Mary thinks she is the lucky one because the kids teach her so much! In her spare time, Mary enjoys crafts, baking, and hiking in the Smoky Mountains. She has a husband, 2 daughters, and a puppy named Rico.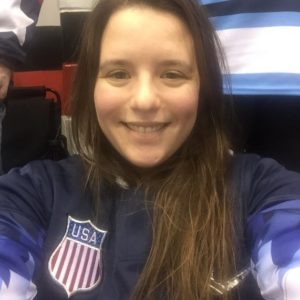 Lorelle joined MCUM's team in 2018 as a classroom aide and has worked in several different classrooms. She completed her CDA in the Fall of 2020 and teaches because she loves being able to help children navigate and discover the world around them. She is originally from Massachusetts, and, while she does not have a Boston accent, she does  say "wicked" and always cringes a little when she sees a Yankee's hat. Lorelle loves ice hockey and has been to many games.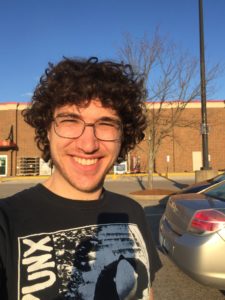 Camden began working at MCUM in November, 2020 as our Direct Services Coach, working with clients who visit the Self-Sufficiency Center to shop in the food pantry, get cleaning/hygiene items, and/or receive vouchers for clothing from Opportunity House. He is already a master food sorter! He loves his job because he gets to help the community. Originally from Bedford, Camden enjoys trail hiking, nature, philosphy, religion, and also works as a Direct Support Professional at Stone Belt.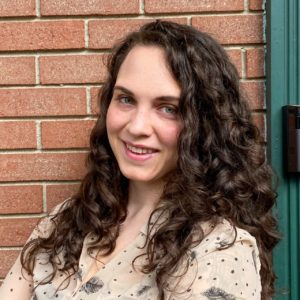 Erin formally joined our staff in 2020 after serving as our social work intern for a semester. In her short time here, she has streamlined the financial assistance process by taking it online and has spearheaded the online ordering for the food pantry. Erin says, "I have always enjoyed working with others and knew I wanted a career in a field that involved getting to know other people in my community on a personal level. More importantly, I wanted to know what the needs in the community were and how I could help them overcome these obstacles. I enjoy getting to know clients and how they are doing, in good times and bad, and being able to share those moments with them. I joined the MCUM family because I valued the way they treat clients as people and are always striving to do more for the community and provide services that are innovative and unique. The progressive nature of the agency, while also always maintaining the agency's mission, is an amazing aspect that is hard to come by." In her spare time she enjoys sewing, reading, baking, and spending time with her husband and four children!
2021 Board Officers
Lesley Levin, Chair
Joel Schneider, Chair Elect
Tom Gardner, Treasurer
Don Shelton, Secretary
2021 Board At-Large
Julie Beasley
Marcia Bishop
Bryan Hane
Jackie Hall
Helen Ingersoll
Jessica Merkel
Judith Olmsted
Rachael Scott
Susan Siena
April Stillwell